Why are your Hikvision devices not working on Google Chrome?
The Hikvision devices (I.P. camera, NVR, and DVR) utilize an extraordinary feature, NPAPI, to show videos. Unfortunately, this feature is unavailable on Google chrome, unlike on Internet Explorer. This is why you cannot see the lives videos on your Chrome.
Back then, Google Chrome used to support this feature, but in 2015 they discontinued it for some reasons. Therefore, to tackle this scenario, you can either use old-fashioned Internet Explorer or the I.E. tab extension.
What is the Google Chrome I.E. extension tab?
The Google Chrome I.E. extension tab is a well-known extension that enables Hikvision devices to work on Google Chrome. It works as the I.E. rendering engine that allows the functioning of Java, Active X controls, and Silver Light, which works with Google Chrome.
So, basically, this will mimic the environment of Internet Explorer for Hikvision devices to work.
So, install the Chrome extension and the I.E. helptab.exe that link the tab with the I.E. engine to enable Hikvison's live videos to work on Chrome. This process will take just a few minutes and is pretty easy to follow.
How to install the Hikvision Chrome I.E. Tab extension?
Here are the steps to install the Google Chrome I.E. Tab extension:
Firstly, open up a new tab on Google Chrome and type chrome://apps/ in the URL box or click on the tab Apps at the top right corner.
Next, click on the option Web Store after entering the Apps section. This will head you to the Chrome apps.
Now search IE. Tab in the search bar once the Chrome app store is open.
Click on the IE tab (This app will enable you to view the Hikvision devices from Google Chrome.)

Now for the I.E. Tab extension, click on Add to Chrome.

After clicking on the "Add to Chrome," a confirmation message will appear. Click on the "Add Extension" button.
Once the extension is installed, you'll see an icon that looks much like the letter e at the far right on the address bar.

After clicking, you'll see a download file appear at the bottom of the page. Click on it and then hit on Run. This will open the extension/app in no time.
You'll now see a new address bar on your Chrome page. Now, type your device's I.P. address in the second address bar with the Internet Explorer's logo.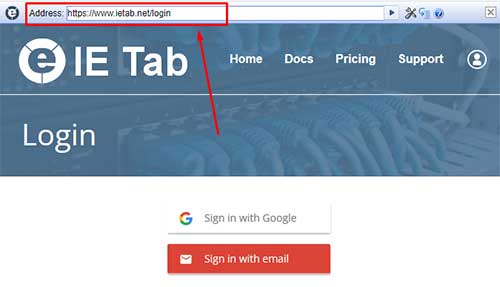 Note that you can either type in the I.P. addresses or the DDNS of your I.P. camera, NVR, or DVR. For instance, 192.168.2.100. Also, ensure to type HTTP before the I.P. addresses.
Lastly, enter your username and password to log in. You'll now be able to see the live videos and all the other settings of your Hikvision devices.
Note that if you see any additional request to install plugins or I.E. helper.exe, install them, as they play an essential role in communicating with the Internet Explorer engine.
Is the I.E., tab extension safe and free of cost?
As you know, nothing is safe on the internet, so we cannot guarantee that this extension is 100% secure or not. However, it's being used by almost 2 million people who are pretty much satisfied with it. Moreover, we haven't heard any sort of complaints from them. So, you can consider it safe.
As far as its cost is concerned, it's free for all non-commercial users. However, if you're using it commercially, you need to pay some amount to purchase a license from the developer BLackfish Software LLC to operate it. Note that this amount is pretty affordable for everyone.
Conclusion
In conclusion, the Hikvision devices (I.P. camera. NVR, and DVR) don't work or cooperate with Google Chrome due to the absence of the NPAPI feature on Chrome. Therefore, you won't be able to see the live videos of your CCTV cameras on Chrome. The only way to deal with it is to use Internet Explorer or download the I.E., tab extension.
Walk through this blog to learn about the I.E. tab extension, such as what it is, how to install it, and whether it is safe and free to use. So, what are you waiting for? Give this blog a read for a better understanding.